Fully customized and automated cubing of concrete products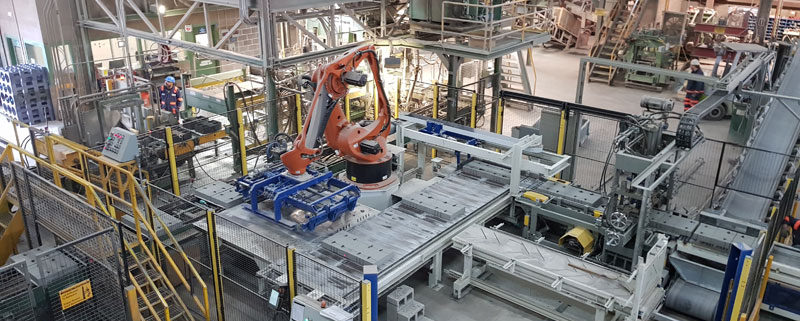 The manufacturer Basalite provides complete product lines including structural block, interlocking paving stones, wall systems, ornamental and garden products with customized shapes, sizes, colors and finishes, and are renowned for their durability, sustainability and beauty.
This focus on customization and quality led Basalite to the Equipment manufacturer Quadra. Having opened its US subsidiary in 2016, Quadra Usa Inc commited to study and understand the products and manufacturing processes for concrete products in the US. Now Quadra Usa Inc has full time dedicated technical staff and sales team as well as local spare parts inventory.
After a visit to France to see Quadra's headquarters and several Quadra block plants in operation, the Basalite team were impressed by the technical solutions provided by Quadra un terms of block machine, handling solutions and robotic cubing systems. One of the brand leaders in France for more than 20 years, Quadra supplies fully automated production plants, typically supervised by only one operator, without any manual operations. These were exactly the kind of solutions Basalite was looking for.
For the new cubing line in Dupont, Quadra designed something completely different than any other solution available or currently being used in the US plants today. In order to create a fully automatic solution, with only one person on the line for quality control, Quadra designed a line with 3 robots avant several product conveyor and pushers.
https://www.quadra-concrete.com/wp-content/uploads/2018/10/Basalite-5.jpg
450
800
Quadra
http://www.quadra-concrete.com/wp-content/uploads/2018/07/logo-gb.png
Quadra
2018-10-04 10:35:32
2018-10-04 10:37:43
Fully customized and automated cubing of concrete products