We are providing our clients with a vibrating press of new generation to assist them with their research and development projects.
We designed and manufactured a pilot plant with the view to testing the manufacture of new products or developing new manufacturing recipe. This pilot is set-up in our workshop based in the head office of Quadra, in Haute-Savoie.
The design of this vibrating press lead to 2 patents. The technical features of this machine provide a large range of settings, and enable the manufacturer to make tests in industrial operation. Equipped with one mixer, one big-bag unload system, and one cement unloading material, we are providing our clients with the resources to move forward with their projects and be assisted with experienced technicians.
This vibrating press is fully instrumentalised and allows the follow-up, in real time, of all elements and settings involved during the manufacturing process, and particularly the vibration.
Research
&

Development : advanced vibration analyse
Quadra Prefit is a diagnostic tool for optimising the vibrating press we are designing and manufacturing. Thanks to the recovery and the interpretation of all vibrating measures, this interface allows the analyse of these data that determines the optimum conditions of use.
The measures are completed through accelerometers located to pertinent and strategic places in the vibrating press, as well as laser cells responsible for measuring the speed of the rotation of the motors, allowing a global survey of the machine. The interface Quadra Prefit enables to record and analyse all the data in real time, with the view to achieving pertinent results, and displaying them synthetically and ergonomically.
A precise adjustment of the settings of the vibrating press is then possible, in order to ensure an operation within the best conditions.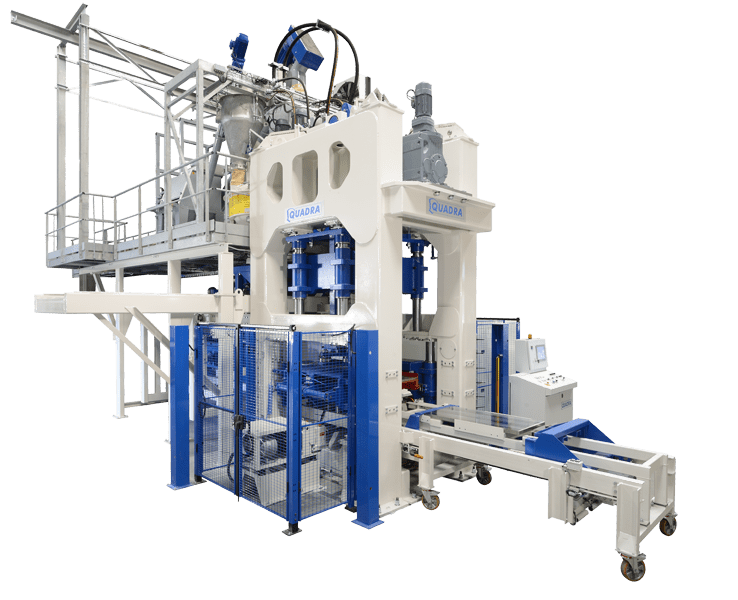 QUADRA USA INC
One Renaissance Tower
2 North Central Avenue
Suite #1800
Phoenix, AZ 85004
Etats-Unis
(+1) 602 373 2951
info@quadra-concrete.com
EDM BETON
Chemin de Trousseauville
14510 Houlgate
(France)
+33 2 31 46 72 40