Vibrating press
Manufacturing of Hemp block
The hemp block is growing significantly, and turns out to be a pertinent answer to the future stakes in terms of eco-responsible constructions.
The hemp block is a globally unique product, mechanically assembled when it is dry, with a high-precision vertical and hortizontal interlocking system allowing fast and simple use.
Specialised in designing and manufacturing customised production units, Quadra took on this technical challenge that required the complete design and customization of the equipment, from the reception of the raw materials to the packaging of the finished products on pallets : the batching and mixing plant, the custom-made block machine, and the handling equipment.
Unique and bespoke design
The design of the batching plant involved a comprehensive assessment in order to consider the specific features of the hemp, which is deifferent compared to conventional aggregates.
This block machine was designed for manufacturing products with a height of 600 mm. The height of the mould is 1100 mm. This equipment allows the fully-automated manufacture of hemp blocks (300 x 600 x 300 mm) with a highly efficient and patented vibrating system. The manufacturing conditions provided by this equipment ensure finished products with high dimensional accuracy.
The design of the machine is impressive mainly due to its height (frame height 6050 mm, 7500 mm with the tamper head) and its overall large dimensions. Unlike traditional block machines, this machine manufactures and demoulds vertically (height 600 mm).
In order to compact the hemp with consistency and precision at all the product heights, Quadra has equipped its block machine with cutting-edge vibration technology. The features in terms of tampering and guidance were also designed for meeting the longer movement and the longer guidance. The movement of the tamper head is servo-controlled and continuous monitoring is ensured by means of linear measurement.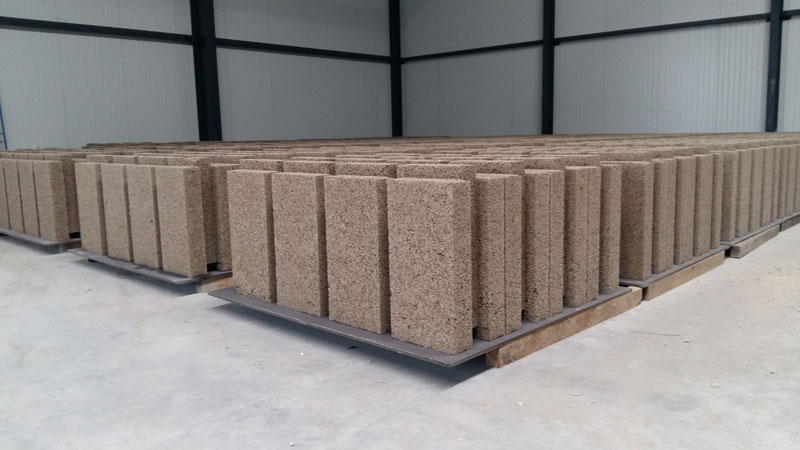 Using steel pallets measuring 1400 x 1550 x 14 mm, this machine currently manufactures half a house per shift.
The plant is controlled by high-end control software that is fully designed by Quadra. The whole plant is graphically displayed, which enables the operator to easily and quickly supervise the production cycle.
A touch screen terminal allows the adjustment and viewing of all parameters. A clear, intuitive and user-friendly interface allows easy modification of the block machine settings without interfering with the production.
Machine settings are stored and recorded by production recipe for easy retrieval of the manufacturing parameters related to a type of product.